OUR COMPANY
Transcold is a recognised market leader in New Zealand's transport refrigeration industry, providing quality solutions for Trucks and Trailers (primarily the Carrier product range and Tail Lifts) and container parts. The business operates from premises in Auckland and Christchurch, supported by an extensive network of Authorised Service Agents throughout New Zealand.
Transcold Group Limited is an Auckland based import, distribution and service business focussed on transport refrigeration and tail lifts for transport distribution companies.
Branches in Auckland and Christchurch supported by authorised service agents throughout New Zealand allow Transcold to offer a unique, seamless network of customer support 24 hours a day and 7 days a week.
An early pioneer in the industry, Transcold commenced business in 1976, manufacturing and installing its own brand of equipment, establishing itself as the major supplier to the New Zealand industry.
Transcold are the authorised dealer for Carrier Transicold products and carry a comprehensive range of spare parts for both Container and Transport refrigeration.
Transcold offer the Euroscan range of remote temperature monitoring solutions to suit all types of refrigeration equipment.
In 2008 Transcold also introduced a range of Aluminium Tail-lifts and is now the New Zealand distributor for Dhollandia, Europe's preeminent manufacturer of hydraulic tail lifts.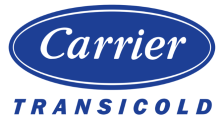 Carrier Transicold helps improve transport and shipping of temperature-controlled cargoes with a complete line of equipment and services for refrigerated transport and cold chain visibility.
For more than 45 years, Carrier Transicold has been an industry leader, providing customers around the world with advanced, energy-efficient and environmentally sustainable container refrigeration systems and generator sets, direct-drive and diesel truck units, and trailer refrigeration systems.
Carrier Transicold is a part of Carrier Corporation, the leading global provider of healthy, safe and sustainable building and cold chain solutions.
For more information, visit www.carriertransicold.eu
Follow Carrier on Twitter: @SmartColdChain
Euroscan technology prepares any refrigerated fleet – whether a single vehicle or a hundred trucks, trailers and cold rooms – to meet stringent HACCP food safety accreditation standards that are designed to ensure food quality and integrity is maintained from the point of origin to the customer's shopping basket.
Among the important aspects of food quality under HACCP, the primary focus is on temperature. The goal is to ensure food or any temperature-critical product is delivered safely and in peak condition.
Euroscan has worldwide coverage with its integrated systems monitoring cold chain and reefer performance in stationary and mobile refrigeration on every continent. The transport of almost two-thirds of McDonalds foodstuffs globally relies on Euroscan technology.
Founded in 1968, more than 50 years of experience in the tail lift businessEurope's manufacturer N° 1 of tail lifts, with production in excess of 50,000 units per year and more than 750,000 units sold since 1968
Unparalleled product range with lift capacities ranging from 150 to 16,000 kg, all developed via internal growth
Production sites in 5 countries
Extensive vertical integration and technological leadership: more than 90% of mechanical, hydraulic and electrical parts used are manufactured in-house
Select the right refrigeration unit or tail lift to your truck or trailer